Present day geologists, mining engineers and metallurgists have to deal with huge volumes of spatial and non-spatial data during exploration, infrastructure development and production stages of a mine. The information comes in various unified (incompatible) formats, has different quality and semantic content. Mine's owner who possesses the special auxiliary tools and instruments to provide the effective organisation and understanding of information sorting as well as to evaluate and forecast the situations which may appear during various stages of mine development, may realise significant benefits.
The solutions offered by our company are tailor-made for mining companies and provide information and analytical support for exploration, construction and mining processes. The set of modules dedicated for these purposes are grouped under the name Mine Advisor™.
In other words Mine Advisor™ is much more than just a digital tool for data processing. Instead it is a decision support system – a working environment for geologists and mining engineers who want to see the big picture of the project while maintaining the ability to focus on particular details.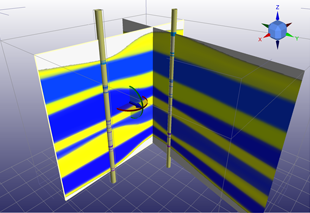 Mine Advisor™ implements a multitier architectural concept with thoroughly separated back-end, data access tools and presentation layers. It serves enterprise-level solution virtualising the physical location of data layer, and it also provides the power to effectively manipulate data of a practically unlimited size.
The architectural openness creates an opportunity to develop a versatile set of tools required by several categories of users and thus effectively customise the mining & geology solution.
In certain situations, Mine Advisor™ operates with data located on the same computer as the application. Alternative combined solutions are also available upon the customer's request.
Mine Advisor™ can be efficiently used in combination with other Sight Power solutions and the associated tools such as Shaft Builder and Shaft Inspector.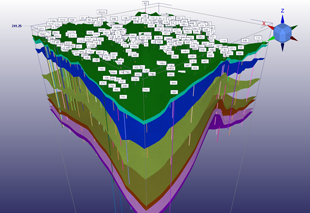 Mine Advisor™ includes the following basic features:
Interactive tools
powerful cross-section builder (2D and 3D);
fence builder;
volume rendering tool;
cross-layer measurement tool;
resource evaluation with variable cut-offs.
Borehole database support
extended analytical capabilities for the analysis of geological and geotechnical data, downhole geophysics and core log data;
virtual borehole concept: modelling of the rock mass properties for any planned boreholes or mine shafts.
Time-dependent model visualization
dynamic visualization of time-based non-stationary models.
Reporting capabilities
powerful layout and report builder;
export to the most of the standard spatial data formats.
Mine Advisor™ can be enhanced with the following generic geological and geophysical simulation and modelling features:
construction of high-resolution probabilistic geological block and layer models built on the drillhole core log data and/or seismic data;
construction of high-resolution probabilistic block and layer-models of geophysical parameters built on the drillhole log data and core log data;
enhanced statistical analysis of spatial data;
time-to depth geophysical conversions;
probabilistic resource evaluation;
feature extraction capabilities from high-res underground seismic and/or block-models.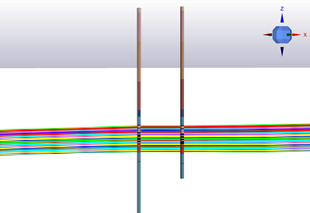 Mine Advisor™ can be also equipped with the following mineral-specific geological simulation and modelling tools:
Underground tabular deposits (potash and coal)

3D-spatial topological model of mines;
flooding models and ventilation models for u/g mines;
resource models with additional constraints and interchangeable conditions.

Diamond deposits

interactive modelling of bulk sampling for kimberlitic pipes;
modelling of ancient buried paleo-surfaces and diamond "traps" locations for alluvial diamond deposits.

Thin seams deposits (coal-bed methane)

thin layer high resolution modelling;
drilling optimisation projections.
The Sight Power team is always pleased to closely work with our customers with an ultimate goal to provide best possible services in accordance with the required specification. In particular we are open to customise the software component of our mining and geological solution by developing additional plug-ins in order to satisfy our customers' needs and work flow.