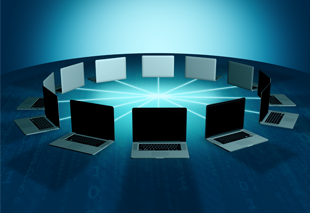 The combination of the unique methods of spatial data structuring and processing provided by Sight Power with technological capabilities of Microsoft Azure allows to significantly improve the effectiveness and scalability of data operations, thereby facing the perpetual growth of data volume.
The pilot project Spatial Cafe, demonstrates various aspects of the effective integration of the technologies. In particular, using cloud technologies for spatial data processing appears to be very effective and expedient due to the following considerations:
spatial data tends to be very voluminous (and so it is difficult to share over the network). Meanwhile, in the overwhelming majority of situations, it can be processed in parallel (by using multiprocessors) and the final product is often smaller than the original data set by several orders of magnitude;
consequently, the processed data set can be effectively transferred within the network in real time. The collection of high-precision spatial data is very expensive and therefore spatial data is often very fragmented, covering solely the zone of interest of the particular customer. The data is therefore stored in the form of small blocks, on disconnected servers or stand-alone client sites. Informational support such as data catalogues or libraries is currently not well developed. There is a high demand for a network that will allow the exchange of spatial data since customers could often use the data already located in the cloud rather than collecting it anew. The perspective of cloud technologies allows an effective way to unite this data and open it to common usage;
users can concentrate their efforts on the development of new applications (in particular, those developed with .Net technology) and on data processing using the existing spatial modules, whereas the MS Azure + Spatial Cafe provide the infrastructure of data storage, effective data access, standard data processing libraries and the effective integration of new applications;
users may rely on the existing Microsoft data centers for data allocation or the extended features provided by MS Azure technology (for instance SQL Azure) and so they will always have the scalable resources for data storage and processing.